Good enough is never enough.
So why settle?
Forget cookie cutter. It's time to push the limits of what is possible in online shipping.
Granular pricing control
Charge exactly what you want for shipping.
Your ecommerce platform's cookie-cutter shipping tool has been costing you sales. Free and flat rates can convert better, but buyers are willing to pay more for faster shipping options on time-sensitive purchases. Set your cart apart with a mix of flat and dimensional rates, giving your customers the freedom to choose the delivery option that works with their timeline and budget.
Create member-specific shipping costs.
Customizable free shipping triggers.
Define how rates from different rule sets should be blended at checkout.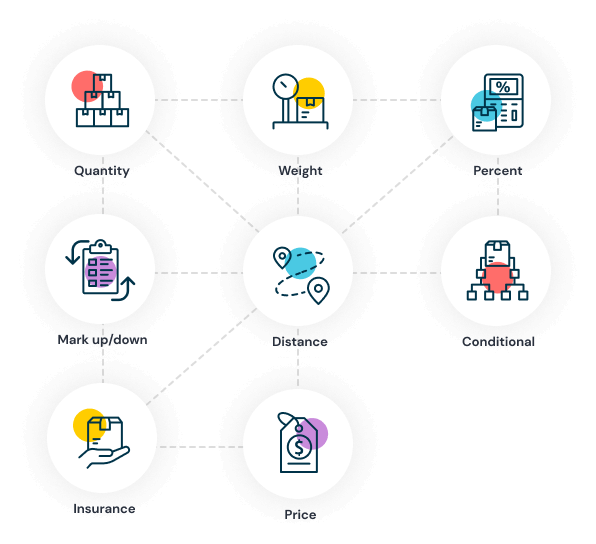 SmartBoxing™
The right size box for every item, every order, every time.
Your customers ordered products, not excess packing materials. SmartBoxing™ determines the fewest and smallest boxes for each order, resulting in lower shipping costs and greener shipping choices during fulfillment. Join other conscious brands who have collectively prevented over 100,000 Olympic-sized swimming pools worth of packing materials from polluting our planet.
Reduces excess packaging usage by up to 40%.
Virtually packs orders in milliseconds.
The most accurate way to calculate dimensional rates.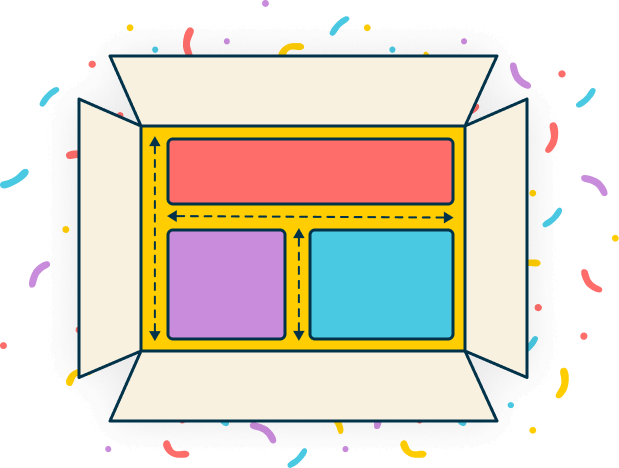 By Volume
For small and malleable items, volume-based packing assumes a level of fluidity in the calculation.
By Weight
When there are a large number of SKUs, weight-based packing provides a dimensional estimate.
By Points
For irregularly shaped or nested items, packing points allow for a customized packing solution.
By Quantity
Commonly used for nested items and or products that can be packed in a staggered way.
Connect to carriers
From A to B over land or sea.
Delivery dates are drastically impacted by fulfillment lead times and the day and time an order is placed. Reduce post-purchase friction and customer care inquiries. Expand your carrier selection, set lead times, and configure carrier cut-offs for accurate delivery dates that build customer loyalty.
Rate shop multiple carriers to show customers the best options.
Create backup rates should your preferred carrier have a service outage.
Configure conditions to hide certain rate types after carrier cutoffs.
Set expectations with accurate delivery dates.
Learn more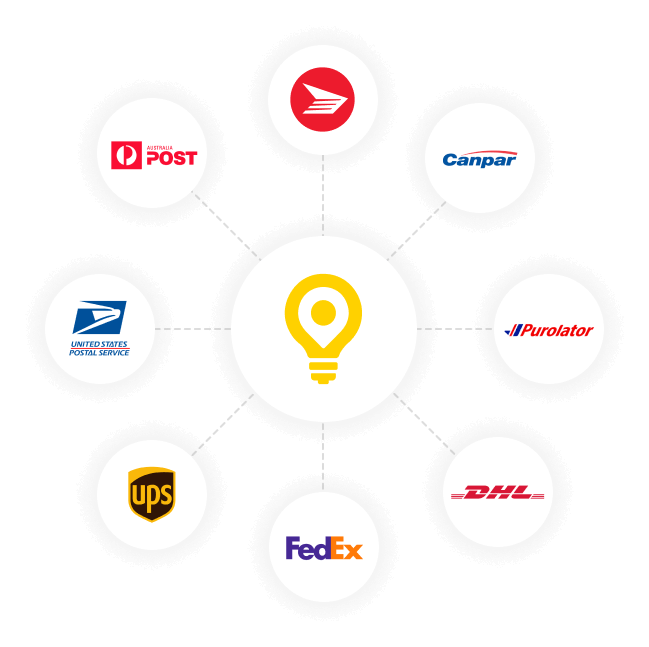 Branded Checkout
Customize the naming of your shipping & delivery options.
The shipping step of checkout is where shoppers turn into buyers. Set delivery expectations that provide clarity and reduce post-purchase friction. Customize the naming of your shipping & delivery options and create custom descriptions to communicate holiday shipping deadlines, advertise a free shipping threshold, or define special shipping services, including 'signature required.'
Craft up to 90 characters for each shipping option.
Create conditional messaging based on cart value or contents.
Increase average order value with conditional free shipping triggers.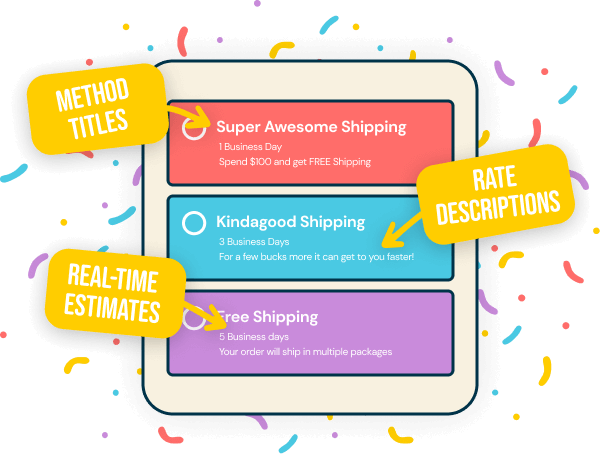 Conditional Logic
Mix & match over 40 conditions to control what rates appear at checkout and why.
 Sometimes, what works for some products or customer groups doesn't work for others. Mix & match over 40 Conditions including Customer Tag, Vendor & Time of Day to control when rates appear at checkout and why.
Product
Customer
Cart
Delivery *
Same-day
Tag
Quantity
Height
Tag
Email
Quantity
Distance
Day of week
Vendor
Price
Packing method
Postal/ZIP
Telephone
Total
Day of week
Date
Title
Total
Free shipping
Street address
Fax
Weight
Date
Time
SKU
Weight
Custom shipping
City
Prev order count
Volume
Time
Collection
Volume
Has pieces
Postal box
Prev order total
Length
Type
Type
Length
Property
Company
Order source
Width
Width
Name
* Delivery conditions, with the exception of Distance (which requires a Google Cloud Services account), require the use of an outside app:
Store Pickup + Delivery by Zapiet.
Product
Customer
Cart
Delivery
Same-day
Title
SKU
Collections
Customer groups *
Postal code
Quantity
Distance
Day of week
Quantity
Price
Total
Address
City
Total
Date
Weight
Volume
Length
Is Postal Box
Company
Weight
Time
Width
Height
Pack Separately
Volume
Free shipping
Custom shipping
Has pieces
Length
Width
Height
* Customer groups are not available on BigCommerce Standard plan.
Precise subzones
Ensure regional differences are accurately defined.
In today's information-driven culture, fueled by instant gratification, buyers want their orders immediately. For urbanites, this is possible with same-day delivery services. Define subzones that specify the services available in a Region. Customize the pricing for each zone and use Conditions to ensure the rates offered during checkout match your internal fulfillment timelines.
Supports UK postcodes.
Restrict bulky or oversized items from certain zones.
Create delivery options serviceable by your delivery team.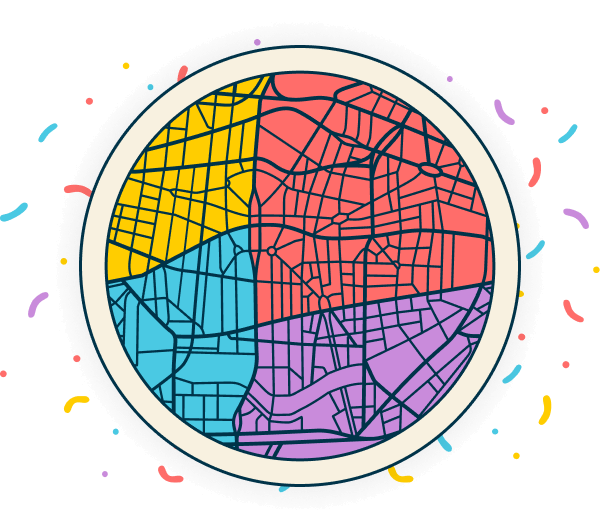 Calculation insights
We have nothing to hide.
Speed, reliability, and transparency are imperative for your shipping customization partner. Our calculation insights dashboard gives you a detailed view of the shipping costs and options presented to your customers at checkout. Troubleshoot, uncover patterns in buyer behaviour and ensure flawless execution of your shipping strategy.
99.9% uptime
The fastest rate calculations in the industry.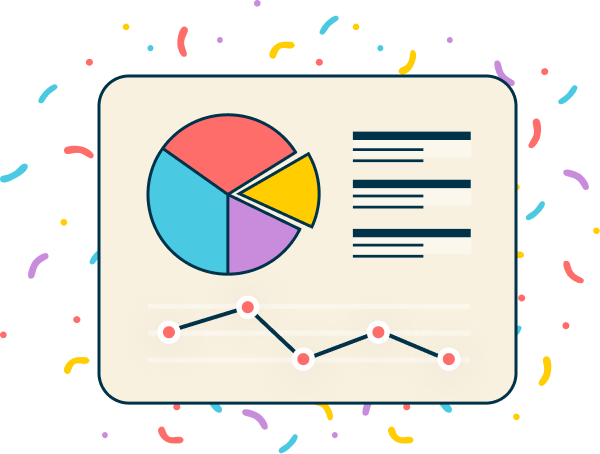 Integrations
Improve your workflow with our integrations.
Our engineering team has spent thousands of hours collaborating with best-in-class technology partners to enhance your store's tech stack. Leverage Intuitive's pricing rules with Sparklayer's seamless B2B portal to craft a tailored shipping experience for each buyer profile, or bridge your cart's shipping experience and the post-purchase shipping journey with Starshipit.
Partners are vetted to ensure flawless technology compatibility.
Supercharge your Intuitive experience.
Learn more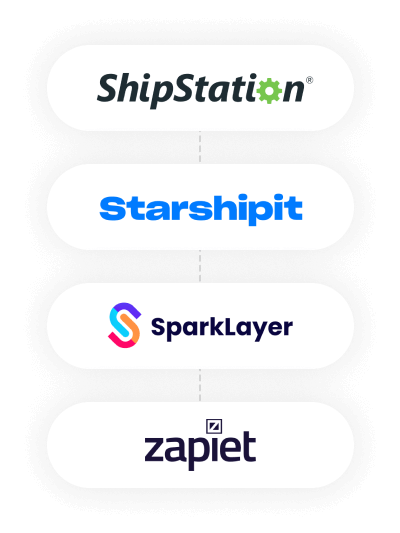 Advanced click & collect
Incentivize local purchases and drive foot traffic by offering free in-store pickup for your local customers located within your city or a specified radius.
Advanced rate blending
Define how shipping rates from multiple vendors, shipping methods and cart rules should be combined at checkout.
Cart conditions
Use cart conditions to determine what, where, when, and why a shipping rate will be displayed at checkout.
Custom free shipping
Create cart or customized product-based free shipping thresholds that increase your average order value.
Custom rates
Assign rates based on quantity, weight, total, volume, Postal / ZIP code and distance from fulfillment location.
Custom shipping method descriptions
Maintain customer expectations with special instructions such as pickup locations, production times, or a reminder that some items may ship separately.
Custom shipping method titles
Control your customers' checkout experience and improve fulfillment efficiency by assigning custom shipping method titles.
Customer conditions
Assign conditions for one, some, or all of your customer groups, controlling what shipping rates will be available at checkout – perfect for retail/wholesale setups and customer loyalty programs.
Flexible rules
Ensure profit by using our dynamic Conditions system to determine who, what, where, when, and why a rate will be available at checkout.
Granular subzones
Define subzones that specify the services available in a Region and customize the pricing for each zone.
Markdown rates
Apply percentage or dollar-based discounts for shipping promotions.
Markup rates
Percentage or dollar-based control over shipping costs to account for extra packaging, courier price increases, or other miscellaneous expenses.
Optimized dimensional shipping
Automatically calculate the appropriate size, weight, and number of boxes for each order using our proprietary SmartBoxing™ algorithm, ensuring accurate shipping rates at checkout.
Per-item exclusions
Control shipping costs right down to the product level to ensure profit on orders with large, heavy or oddly shaped items that have different shipping requirements from the rest of your product mix.
Product data CSV
Have a large product mix and want to use our Smart Boxing algorithm. Export your products into a CSV file to quickly add dimensions to your products.
Product-specific rates
Set unique rates for high-margin products to increase your average order value.
Rounded rates
Employ pricing psychology and round live rates to the nearest half dollar, dollar, 5 or 10 dollars.
Rate overrides
Use rate overrides to maintain control over maximum shipping costs, free shipping, or discounted shipping rules.
Shipping origins
Assign unlimited origin addresses for your multiple warehouses and vendors for shipping accuracy.
Ships in multiple pieces
Set multiple dimensions/weight of packaging for a product and ensure customers are paying the right price for shipping on all items.
Signature required
Create signature required options for customers who want added piece of mind for their orders.
Simple boxing
Simple boxing splits your packages based on cart or product values such as quantity, volume, and weight for predictable rates at checkout.
Time-sensitive deliveries
Assign date, time, and day of week conditions for complete control over how customers qualify and get charged for Same Day and Next Day delivery.
Zone restrictions
Ensure that only customers from authorized zones can complete checkout with special items that are restricted, such as controlled substances, hazmat, or outside of where your vendor will ship.